Grant's March
Willow Springs Historic Marker Rededication
August 27, 2009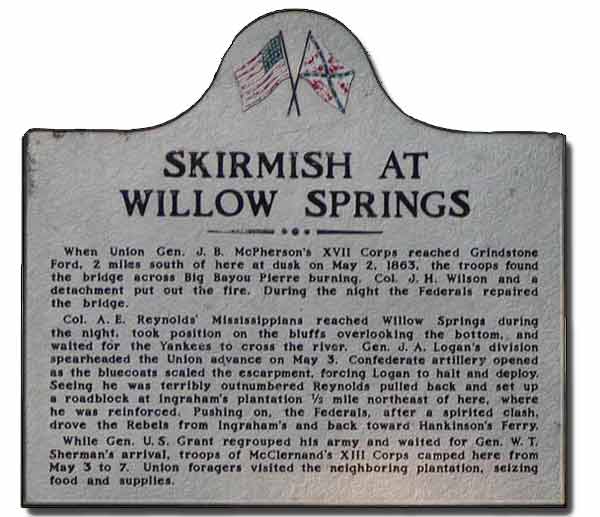 On August 27, 2009, a crowd from Claiborne, Warren and Hinds Counties met at Willow Springs Crossroads, six miles east of Port Gibson, to rededicate a half-century old historic marker, ďA Skirmish at Willow Springs.Ē The marker was stolen some ten years ago and recently found. Members of the Port Gibson Heritage Trust planned the historic event. Parker Hills, historian and battlefield tour guide, was the guest speaker.
Now a ghost town, Willow Springs was at one time a thriving plantation community six miles east of Port Gibson. To the south of Willow Springs was the Bayou Pierre River and to the north was the Big Black River. Running between the two rivers was a creek known as Kennisonís Creek. The fertile river basin made the land ideal for planting cotton and other cash crops. There was also a post office at Willows. On May 3rd, after Grantís army won the battle of Port Gibson, his men marched eastward to the Willow Springs area and encountered the Confederates who had set up a roadblock at the Ingraham plantation. Outnumbered, the Confederates were forced to fall back while thousands of Union soldiers remained for about four days, wrecking the plantation homes and looting all of the food and livestock. At the close of the war, the Ingraham family left Claiborne County and moved to New Orleans.
Mott Headley, long time Port Gibson resident, unveils historic marker at the rededication.

Jim Drake, resident of Raymond, and Mott Headley engage in conversation following the unveiling.

Members of the Port Gibson Heritage Trust, as well as other guests, gather at Willow Springs Crossroads
to participate in the rededication of the Willow Springs historical marker.
Photography by Rebecca Blackwell Drake
---
| Home | Grant's March | Gregg's March | Battle of Raymond | Order of Battle | Commanders | Soldiers Who Fought | Diaries & Accounts |
| Official Records | Confederate Cemetery | Kaleidoscope of History | Re-enactments | Battlefield Preservation | Bookstore | Visitors |

Copyright (c) James and Rebecca Drake, 2009. All Rights Reserved.