The Ties That Bind: McGavock and Griffin
By
Rebecca Blackwell Drake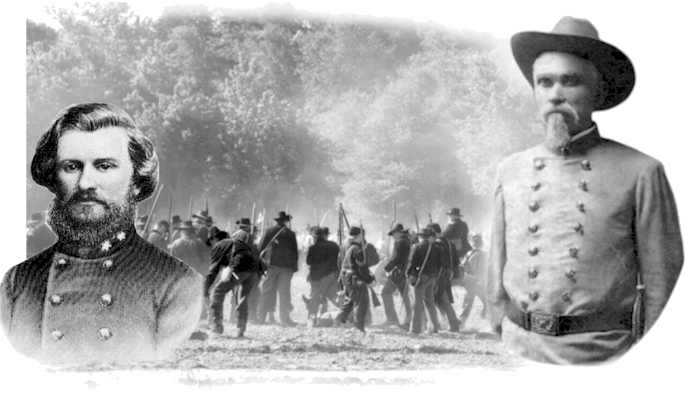 The day of the Battle of Raymond found young teenager Patrick Griffin, 10th Tennessee Infantry, in an emotional quandary. His colonel and idol, Randal McGavock, had been shot through the breast and killed during the heat of battle. Not only was McGavock his colonel but also a father figure and friend. Nothing had prepared him for this kind of trauma.
Born around 1845, in Galway, Ireland, Griffin was just a child when his parents, Michael and Honora Griffin, immigrated to the United States. The family settled in Nashville where Michael obtained a position with the Southeastern Railroad. The Griffin family was living the American dream until 1856, when Michael died. Young Patrick became head of the household, obtaining a job as timekeeper at Southeastern Railroad to help make ends meet. In 1861, Griffin left his job with the railroad to enlist with The Sons of Erin, a regiment organized by the wealthy Irishman Randal McGavock. Griffin was so enamored by this 'father figure' of a man; that he styled him, "God's own Gentleman." As the war commenced, Griffin followed closely in Captain McGavock's footsteps.
Service in the Confederate Army turned out to be more than the young teenager had anticipated. Early on, he had proudly served as drummer for The Sons of Erin. To his dismay, when the militia group merged with the 10th Tennessee Infantry, a more talented drummer replaced him. To compensate for the disappointment, he was promoted to the rank of orderly sergeant. Within a year of enlisting, the 'romance of war' faded after the Confederates were forced to surrender at Fort Donelson. Captain Randal McGavock was transported to Fort Warren Prison in Boston Harbor, while Patrick Griffin went his separate way. Along with the other enlisted men, Griffin was taken to Camp Douglas near Chicago - a fate worse than death.
In 1862, after the prisoners were exchanged, Griffin found himself in Vicksburg reuniting with other prison camp survivors. Many of his companions had died from disease while in Northern prisons. "Next we went into camp at Clinton where we were furnished with guns and uniforms that had run the blockade," Griffin recalled. " We were sworn in for three years, or during the war. We elected our officers and made preparations to go on the warpath once more. Lieut. Col. McGavock became our colonel; Sam Thompson, Lieutenant colonel; and William Grace, major."
On May 12, 1863, Colonel Randal McGavock led the 10th Tennessee Infantry through Raymond and out to the battlefield. Women and children lined the streets throwing flowers and waving their handkerchiefs at the passing soldiers. Within hours, news spread back to the townspeople that Col. McGavock, the handsome commander of the 10th Tennessee, had been killed during the battle.
Griffin later recalled the heartbreaking battlefield death of his friend and colonel saying: "We had been under fire about twenty minutes when I heard a ball strike something behind me. I have a dim remembrance of calling to God. It was my colonel. He was about to fall. I caught him and eased him down with his head in the shadow of a little bush, I knew he was going, and asked him if he had any message for his mother. His answer was "Griffin, Take Care of Me." I put my canteen to his lips but he was not conscious. He was shot through the left breast, and did not live more than five minutes."
As the dust of battle settled, nothing mattered to Griffin except taking care of his colonel's dead body. Grffin was taken prisoner of war but given a brief parole the next day to bury his commander in the Raymond cemetery. A rough wooden coffin was hastily nailed together and loaded on a hired wagon. A small band of townspeople trudged behind the wagon out to the cemetery. Accompanying the casket was Patrick Griffin and a ragged squad of Confederate prisoners flanked by Yankee guards. "When the funeral was over, we marched back to the hotel prison," Griffin reminisced. "Although I was only a boy then, the memory of the miserable loneliness of that night has never been quite blotted out in the years that have intervened. No man has ever come across life's pathway to fill McGavock's place in my heart."
In 1905, Patrick Griffin identified himself as the only one left out of the original 124 men recruited to serve with The Sons of Erin. Unlike most of his fellow soldiers, who either died in prison or on battlefields in Mississippi, Georgia and Tennessee, Griffin survived the Atlanta and Tennessee campaigns until he was mustered out in 1865. Griffin was less than twenty-one years old when he returned to Nashville to resume civilian life.
Griffin returned to his position with the Louisville and Nashville Railroad and in later years, was elevated to the position of foreman. He became a successful businessman, building numerous houses for his family in the heart of Nashville. Several of these houses have been preserved as a part of Nashville's history.
Patrick Griffin passed away on June 9, 1921, and was buried in Mt. Olivet Cemetery, Nashville, near his colonel, Randal McGavock. His obituary in The Confederate Veteran read, "Although we know that, clothed in his old gray uniform, he has been tenderly laid away and that his soul has passed to the bivouac of the life abundant, so much of his courageous and helpful personality lingers in his old environment that we are confident - 'He has not wandered far way, He is not lost or gone.'"
The lives of Patrick Griffin and Randal McGavock, patriots of the Lost Cause, remain united forever- from their heroism on the Raymond Battlefield to their burial at Mt. Olivet Cemetery near Franklin, Tennessee. Undoubtedly, this is the way Griffin would have chosen to spend eternity - resting in peace near his colonel.

---
Click here to view Jerry McWilliams' portrait of Randal McGavock and Patrick Griffin