Mary Garth Gregg: A Steel Magnolia
By
Rebecca Blackwell Drake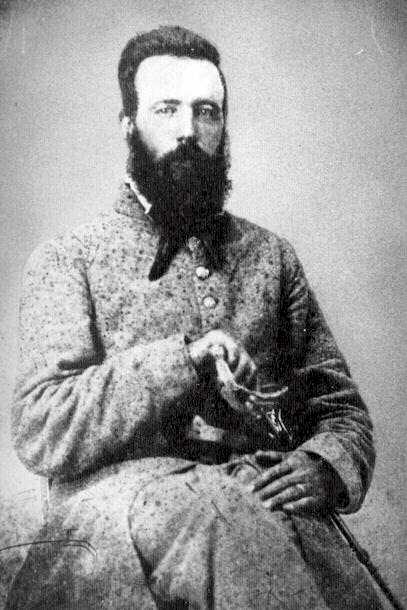 On January 11, 1864, at a train station in Dalton, Georgia, Mary Gregg said goodbye to her husband, John, as they boarded separate trains. Mary's train would take her south to her father's home near Decatur, Alabama, while John's train headed north to Richmond, where he had accepted command of a brigade in Longstreet's Corps. The parting was emotional but Mary never dreamed that it would be their last.
John Gregg and Mary Gregg, both 30 years of age, were married in 1858, in Morgan County, Alabama. At the time, John was a practicing lawyer in Freestone County, Texas, and Mary was the daughter of a wealthy landowner in northern Alabama. Following the wedding, John took Mary to Fairfield, Texas, where she enjoyed the prestige that came with being the wife of a prominent lawyer.
Tensions mounted in the family, however, as the national crisis over secession surfaced. John Gregg became an ardent secessionist and voiced his strong opinions all the way to the Texas Secession Convention. On the other hand, Mary's father was against secession and strongly opposed withdrawing from the Union. Mary was caught in the crossfire. However, in 1861, when John formed the 7th Texas Infantry in Marshall, Texas, Mary was by his side.
Mary traveled in concert with her husband. When the 7th Texas Infantry marched to Hopkinsville, Kentucky, Mary went along. Their only separation came after the fall of Fort Donelson when John was sent to prison. During those five months, she returned to her father's plantation near Decatur, Alabama, to wait for John's exchange. After his parole in July of 1862, she traveled to be with him in Jackson, Mississippi, for the reorganization of the Confederate army. Their pattern of being together continued as he led Gregg's Brigade in the Battles of Raymond and Jackson. During this time, Mary stayed nearby in Brandon with friends.
After the fall of Vicksburg and a brief respite in Enterprise, Gregg's Brigade was ordered to northern Georgia to reinforce General Braxton Bragg's beleaguered army. During the Battle of Chickamauga, he was severely injured when a bullet stuck him in the neck. Mary traveled to the Confederate hospital in Marietta to be by his side. They remained together until January of 1864, when John suddenly left for Virginia to accept command of the Texas Brigade in Longstreet's Corps. Unable to travel with him, Mary was forced to say goodbye at the train station in Dalton. That would be the last time they would ever see each other.
Mary returned home to Alabama and waited for news of John. Finally, in October of 1864, a letter bearing the emblem, Postmaster General of the Confederacy was delivered to her. The contents of the letter sent her into the depths of despair. "My Dear Madam," wrote John Regan, Confederate Postmaster-General and John's best friend. "I am called to perform the most melancholy duty. Your noble husband and my best friend has fallen in battle. I will not mock the grief which awaits you by more words. Keen and bitter as is my own sorrow for the loss of so dear a friend, and of an officer so valuable to the country and so esteemed by all. I wish it were in my power to bear a portion of the deeper and holier grief which must fall on you, the partner of his joys and sorrows, and the cherished idol of his heart."
For weeks and months after receiving the letter, Mary Gregg anguished over her loss. Nothing soothed her except the notion that she would travel to Richmond and retrieve John's body. On January 18, 1865, accompanied by E. L. Sykes, a family member, she began the eight-hundred-mile journey to Richmond. After arriving, she suffered an emotional breakdown and had to be placed under a doctor's care before starting the trip back home. Finally one month later, on April 8, 1865, the casket bearing the remains of John Gregg arrived in Aberdeen, Mississippi, where he was buried in the Odd Fellows' Cemetery. Mary Gregg, a steel magnolia of her time, would grieve for her husband for the remainder of her life.
Mary purchased a home in Aberdeen and became a successful planter in Monroe County. She also opened her home to orphaned girls, giving them the loving home they would not have had otherwise. To local citizens, Mary Gregg became something of a saint.
Prior to her death on June 15, 1897, Mary ordered her headstone to be placed next to that of her husband. The inscription on the simple granite headstone reads: Mrs. General Gregg. An elaborate shaft with a tribute to John Gregg also marks the plot: "To the memory of Gen. John Gregg, of Texas, a Christian soldier and a patriot, Born in Lawrence County, Ala. September 2, 1828, and fell before Richmond in behalf of Southern rights and constitutional liberty October 7, 1864."
---
| Home | Grant's March | Gregg's March | Battle of Raymond | Order of Battle | Commanders | Soldiers Who Fought | Diaries & Accounts |
| Official Records | Confederate Cemetery | Kaleidoscope of History | Re-enactments | Battlefield Preservation | Bookstore | Visitors |

Copyright (c) James and Rebecca Drake, 1998 - 2003. All Rights Reserved.