Jerry McWilliams, Artist
by Rebecca Blackwell Drake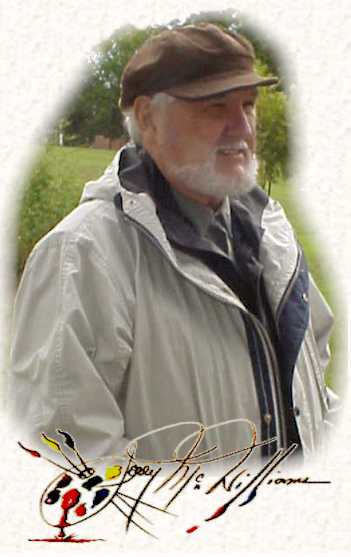 Jerry McWilliams, nationally famous Civil War artist, received his early training from the Chicago School of Art. He also studied with Mr. Frank A. Atkinson who rendered the artwork in the rotunda of the new State Capitol Building in Jackson.
McWilliams has a deep love of history. He and his wife, Kay, make their home just outside Raymond in a lovely antebellum home that once belonged in the Granberry family. McWilliams' paintings are on display throughout the house.
One of McWilliams' most famous paintings, The Sinking of the U.S.S. Cairo now hangs in the National Military Park at Vicksburg. This painting represents the first in a series of twelve Civil War scenes being painted by McWilliams. Prints of this work have been distributed throughout the world and some are still available. Another famous painting of McWilliams' is The Old Grist Mill - a depiction of the old gristmill as seen at Grand Gulf State Park. This lovely painting depicts not only the gristmill but the millpond and Sacred Heart Catholic Church as well. One of McWilliams' most popular painting is a portrait of Jefferson Davis, Jefferson Davis with his Dog, Traveler, at Beauvoir. This painting is now on display at Beauvoir in Biloxi, Mississippi.
McWilliams' pen and ink drawing of the battle-scarred piano was sketched using a photograph of the actual piano at the Confederate Museum in New Orleans. According to McWilliams he also sketched the stool that went with the piano thinking if they hauled the piano out into the trenches that they most likely took the piano stool as well.
| Home | Grant's March | Gregg's March | Battle of Raymond | Order of Battle | Commanders | Soldiers Who Fought | Diaries & Accounts |
| Official Records | Confederate Cemetery | Kaleidoscope of History | Re-enactments | Battlefield Preservation | Bookstore | Visitors |


Copyright (c) James and Rebecca Drake, 1998 - 2002. All Rights Reserved.