Frederick C. Hibbard: Master Sculptor
Part II
by Rebecca Blackwell Drake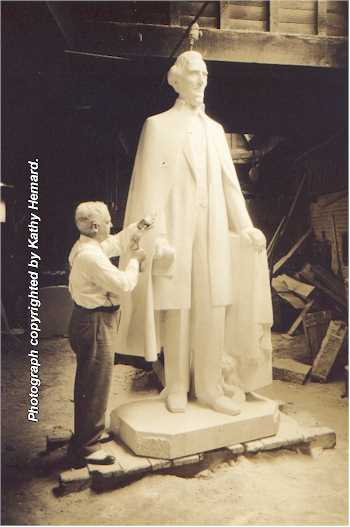 Frederick C. Hibbard working on the life-sized statue of Jefferson Davis, dedicated in 1936. This statue is located in the New Capitol Rotunda, Frankfort, Kentucky. Photograph courtesy of Kathy Hemard
Frederick C. Hibbard, master sculptor, was born June 15, 1881, on a farm in Canton, Missouri. The farm was near the banks of the Mississippi River. As a child, Hibbard spent a great deal of his time exploring the area, pausing to explore sticky clay that he found in nearby muddy ditches. Working with the clay, he sculpted some of his favorite animals. The clay ignited his fascination for the art of sculpture, a passion that remained with him for the rest of his life.
Hibbard finished high school, then attended Culver-Stockton College, Canton, Missouri, and Missouri State University where he received his training as an electrical engineer. He later attended the Armour Institute of Technology in Chicago. In spite of having landed his first job as an electrician, Hibbard's interest did not lie in this area. He wanted to become a sculptor and, at that time, there was no better place to study than in Chicago. In 1901, at the age of twenty, he enrolled at the Art Institute of Chicago to study under Lorado Taft, a master sculptor. After a year at the institute, he became an assistant to Taft and by 1904, had established his own studio in Chicago.
By 1908, Hibbard had sculpted a Confederate monument in Forsyth, Georgia, the Eagle on top of the Illinois Monument in Vicksburg, and the bronze plaque on the Confederate Monument in Raymond.
One of Hibbard's first major successes came during World War I when he was selected by the United Daughters of the Confederacy to erect a monument on the battlefield at Shiloh. Hibbard later commented on the commissioning of the Shiloh Monument, saying, "This monument was erected in memory of the 10,000 Confederate soldiers who fell in the Battle of Shiloh. The subject was a difficult one, for the Battle of Shiloh did not result in a Confederate victory. I went weeks studying Civil War history and biography, deciding at last to use symbolic figures typifying the reasons for the defeat." The United Daughter of the Confederacy Monument on the Shiloh Battlefield was dedicated in 1917.
In 1919, on the heels of the Shiloh monument, the equestrian statue of Major General Ulysses S. Grant was unveiled in the Vicksburg National Military Park. The work, cast in bronze, featured General Grant mounted on his horse. Hibbard commented on the construction of Grant's statue, saying, "I was commissioned by the State of Illinois to make the General U. S. Grant equestrian statue for the Vicksburg National Park, Mississippi. The only requirements of the State Commissioners were that General Grant be mounted upon a quiet, gentle, horse, and be depicted as he was during the Siege of Vicksburg. I could not fulfill the latter requirement because the General wore a blouse and his pants were over his boots, Had he been made in sculpture during the siege, he would have looked like a rooster with its tail feathers pulled out and spurs cut off."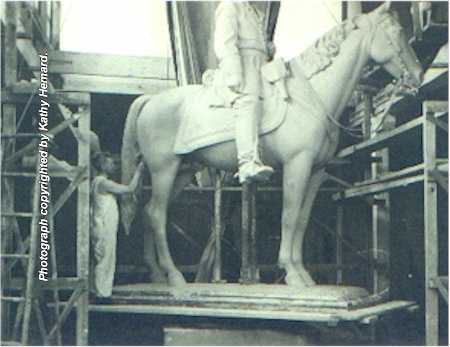 The equestrian statue of General U.S. Grant under construction in Hibbard's Chicago studio around 1918-1919. The statue was unveiled at the Vicksburg National Military Park.
Photograph courtesy of Kathy Hemard
Hibbard's prolific career spanned almost a half a century, from 1904 until 1948. During this time he produced over seventy sculptures for the American people to enjoy. One of these masterpieces is a twelve-foot statue of Jefferson Davis unveiled in 1936 in Frankfort, Kentucky. This would not be the only statue of the fallen Confederate president. In 1940, a second statue of Jefferson Davis was unveiled - this one in Montgomery, Alabama.
In addition to the Civil War statues, Hibbard also created some masterpieces using other subjects. Two of the most popular of these are the Mark Twain Monument and the Tom Sawyer and Huck Finn Monument in Hannibal, Missouri. Another statue of gigantic proportions is the effigy of Abraham and Mary Todd Lincoln in Racine, Wisconsin. This was Hibbard's first statue to depict a first lady and possibly the first and only statue of Mary Todd Lincoln.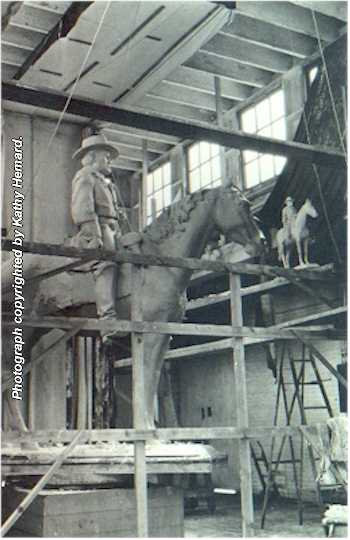 Photograph courtesy of Kathy Hemard

In 1946, Hibbard was invited back to Canton, Missouri, to give the Founder's Day speech at Culver-Stockton College. During the speech, he commented on his art and his ability to create masterpieces out of stone: "Before a monument is begun, there is always a great deal of research work to be done. Much time must be spent in libraries and in newspaper 'morgues', gathering information and hunting for photographs and prints. Then the prospective location of the monument is visited and studied. After the sculptor has acquired sufficient information, he makes the first small wax model. Maybe it will be only an inch or two high. Then, he develops this into a larger size."

Hibbard died in Chicago on December 12, 1950. The New York Times noted his death: "Frederick C Hibbard, noted Chicago sculptor, died of bronchial pneumonia today in the Little Company of Mary Hospital. He was sixty-nine years old. Among works which won for him national acclaim are his Mark Twain monumental portrait and the Tom Sawyer and Huck Finn statues in Hannibal, Mo; the United Daughters of the Confederacy Memorial at Shiloh National Park, and a five-ton granite group of Mary Todd and Abraham Lincoln, completed in 1943 for Racine, Wisconsin. He was buried in Mt. Hope Cemetery in Chicago, alongside his son, Lt. Frederick W. Hibbard, his first wife Gladys F. Hibbard and his second wife, Elisabeth H. Hibbard."

The Confederate Monument in Raymond is fortunate to be named as one of Hibbard's legacies. The monument is as impressive today as it was in 1908 when the seven young girls pulled the cord - unveiling a work that would become a part of the Raymond setting for centuries to come.

Link to Other Hibbard Articles:

Part I
Frederick C. Hibbard: Raymond Confederate Monument
---
*Editor's note: Frederick Hibbard was married to Gladys Hibbard and they had five children, three sons and two daughters. After the death of Gladys, he married Elisabeth Haseltine, a sculptor renowned for her animal studies. The information and photographs used in the series on Hibbard are courtesy of Mrs. Kathy Hemard, the granddaughter of Hibbard, who is in possession of much his memorabilia, including photographs of his works.
*Historic sources: Smithsonian Institute; 1992 Save Outdoor Sculpture report by Robert and Marion Bassett; and personal notes from Mrs. Kathy Hemard, granddaughter of Frederick C. Hibbard.
---
| Home | Grant's March | Gregg's March | Battle of Raymond | Order of Battle | Commanders | Soldiers Who Fought | Diaries & Accounts |
| Official Records | Confederate Cemetery | Kaleidoscope of History | Re-enactments | Battlefield Preservation | Bookstore | Visitors |


Copyright (c) James and Rebecca Drake, 1998 - 2002. All Rights Reserved.