Patrick Griffin: In His Own Words
Part Two
By
J. R. Reddig, great-great nephew
J. R. Reddig, great-great nephew of Patrick Griffin. Tenth Tennessee (Irish) Brigade who fought in the Battle of Raymond. Genealogical information was compiled by Barbara Foley Nakaska in 1963. She was Patrick Griffin's great-niece, and heard the stories first hand.
It is blowing something fierce outside the wide glass windows at Big Pink. The branches, newly tipped by green are dancing. The birds are chirping frantically, happy that the rain has stopped, but unable to fly in the fresh gale, which promises to rise through the day. Up North, they are going to run the Boston Marathon today, and they say that the storm brushing by us is a full Nor'Easter there. It will be quite an adventure for the runners, and they must be feeling the same sort of dread and anticipation that great great Uncle Patrick felt, looking at the waters of the Big Muddy on the prison boat, headed for another Yankee jail after the battle of Raymond, down in Mississippi.
I don't know quite what to make of parts of the story. Once the encounter was over, Colonel McGavock killed and the rebels routed, Uncle Pat was pretty much on his own to account for his whereabouts. By the time he rose to address the Cheatham Camp of the Confederate Veterans, almost forty years had passed, and there were only seven survivors of the 10th Tennessee Infantry left alive. None of them were present. Still, this account had been printed in the Nashville American, and Patrick had been telling the stories, one way or another, for years. If the bulk of them were not true, someone would have noticed along the way.
Another captive of the 10th, headed toward a Yankee jail, was with him when he escaped, and that part seems to be real enough. So I am inclined to give Uncle Pat the chance to tell his story in his own words, just as he did 102 years ago. The last man standing ought to be permitted to have a little latitude with the past, wouldn't you agree?
Back then, the man in the gray frock-coat at the podium took a sip of the tepid water in the glass on the podium. He cleared his throat, and continued his story:
Patrick Griffin, in His Own Words, in the Spring of 1905
Patrick Griffin, 1905, speech to a meeting of Frank Cheatham Camp
of the Confederate Veterans of America, at Nashville, Tennessee.
Burying Colonel Randal McGavock
When we got into town, night had fallen. We were taken to a hotel that had been vacated by its owner and was being used as a prison by the Yankees. McGuire promised to try to procure a parole for me for a few days. The Colonel's body was placed upon the porch at the hotel and remained there till morning. Although I was literally worn out, I did not sleep a wink that night. The next morning, Capt. McGuire came with a two days' parole for me. I got a carpenter and asked him to make a box coffin, for which I paid him twenty dollars.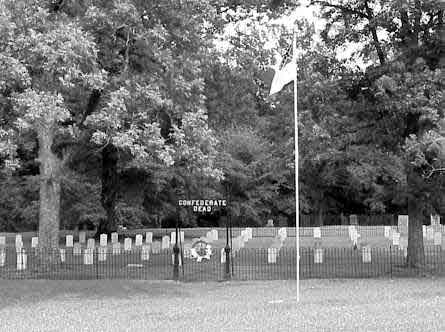 Those who died during the Battle of Raymond were buried on a hillside in the Raymond cemetery. The hillside later became the Raymond Confederate Cemetery. Randal McGavock was buried here the day after the battle of Raymond but later removed and reinterred in the Dickinson family cemetery in Columbus, Mississippi. Some time later he was reinterred again and moved to the McGavock family cemetery in Franklin, Tennessee.
My fellow-prisoners assisted me in any way they possibly could. Many friendly hands were to help me place the Colonel's body in the rude coffin. I hired a wagon in town, and got Capt. McGuire's permission to have all the Confederate prisoners follow the body to the grave. We had quite an imposing procession, with, of course, Yankee guards along. I had the grave marked and called the attention of several of the people of Raymond lo its location, so that his people would have no trouble finding him when they came to bear him back to Tennessee.
When the funeral was over, we marched to the hotel prison. Although I was only a boy then, the memory of the miserable loneliness of that night has never been quite blotted out in the years that have intervened. No man has ever come across life's pathway to fill McGavock's place in my heart.
They put me into a room with two other officers who were prisoners, one of whom was Capt Broughton, of Dallas, Texas. This room was about 12x14 feet-square, and was quite bare as to furnishings. We had to sleep on our blankets and use our canteens for pillows. Just after sun up next morning the Yanks marched in Lieut. Bill Foote. I was sorry for Billy to be a prisoner, but so many things had happened during the past few hours that I could have cried for joy at sight of his friendly face.
Time did not hang heavy on my hands after his arrival. I made up my mind that I would not go to prison if there was any possible chance for escape. I looked around the little old room in which we were confined and discovered that there was a door leading into another room. This door was locked, but it did not take me long to effect an entrance, and there I found stored away boxes of plug tobacco that reached halfway up to the ceiling. Well, that find was equal to a gold mine, for tobacco was very scarce at that time.
Finding a Stash of Tobacco
I told my fellow-prisoners to keep a close mouth regarding my find; that it might mean a good many dinners, and breakfasts for us. Foote promised that he would not allow anyone to enter the room under any circumstances. They guarded the secret well. I still had my parole, so I called for a guard to accompany me down to breakfast, and on the way I asked the bluecoat if he chewed tobacco. He said that he did, and I immediately presented him with a plug. He asked me where I got it, and I told him I had a friend who would furnish it He said that I could sell a wagon-load. I told him we would divide the profits on the sales if he would help me to dispose of it. That Yankee must have been a retail clerk before he went into the army, for he sold tobacco right and left.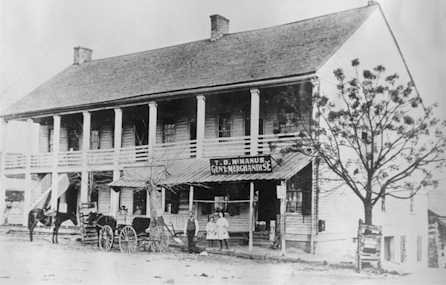 Following the Battle of Raymond, the Oak Tree Hotel, as well as the
Raymond Courthouse, served as a Confederate hospital and prison. It was here that
Patrick Griffin found the stash of tobacco.

On that first morning we sold eleven dollars worth of the weed before breakfast. I had three extra meals put up for my comrades, Whenever the Yank was off duty after that, he came around to get a fresh supply. The next morning I went to see Capt. McGuire and told him that I could not stand being confined in that little old room, and I handed him over a sample of plug tobacco. He cut off a chew and passed it back to me. I told him to keep it, that I knew where I could get plenty more. The tobacco helped to win him over, and he gave me a permit good within city limits during the time of our stay in Raymond. I got more than five hundred dollars clear sale of tobacco.

I had an opportunity to visit every outlet to the town and found them all heavily guarded, and I realized that I could not escape by land. The news came one day that we were soon to start for Yankeedom, so I went in the early morning out to the spot where the remains of my colonel lay, and, longing to see him again and to know for sure that he was there. I uncovered the coffin and took off the lid and looked upon his dear face for the last time. His hair and beard seemed to have grown much longer. I covered the coffin over carefully and banked up the grave, and then I took a farewell look at the spot where he lay.

The Great Escape

Two days later we were marched to the Mississippi River, where we were put aboard transports and started to a Northern prison. I had CoL McGavock's watch, his valuable papers, and nine hundred dollars in Confederate money. On board the boat the officers had to pay for their food or starve. My comrades had no money, so I had to come to the rescue with my five hundred dollars tobacco money. Capt Broughton borrowed one hundred dollars from me, and whatever was mine was Foote's, and of course we had to pay for rations for the rest of the fellows. Well, when we landed at Two Mile Island, above Memphis, I had just one twenty-five-cent shinplaster left.

Capt Neff, of the 51st Indiana Infantry Regiment, was in command of the boat we were on. He was a gentlemanly sort of a fellow, but of course he had to obey the strict orders issued to him. I told him long before we got to Two Mile Island that he would never take me to a Yankee prison. "I'll bet five dollars I do" was his reply, and I at once bet him five dollars he would not. He smiled and insisted that we should shake hands on the bet. I shook hands with him, and told him to pay the money to Bill Foote when he found me gone.

When we reached the island, I looked around to see how the land lay, but there were too many Yankee guards to hinder my progress. The bluecoats were on each side of the river and Memphis was two miles distant. I knew I could swim down to the city, but was afraid Lieut. Foote could not hold out to get there. However, I went up on deck and talked the matter over with him. Without a moment's hesitation he said: "I will go with you." That evening we went down into the wheelhouse. Foote looked down into the water and then across the river and down the river, and I knew by the expression on his face that it would be best for him to stay on board. I would rather have gone on to the Yankee prison with him than have him drowned.

I told him if he had the least fear he must not attempt it. We went up into the cabin, and as I passed Capt Neff I reminded him of our bet and told him to be sure to give the money to Foote. He laughed and said: "All right" I had on a double-breasted military coat, with two lace bars on the sleeve and lace around the collar, denoting my rank. Of course this rendered me a conspicuous figure among the prisoners, and the captain could locate me quicker than anyone else on board.

Lieut. Foote ("Tinfoot" we called him) and I went into one of the staterooms and had a farewell chat. I gave him my uniform coat and cap and insisted that he put them on. I got a life preserver that I had hidden away to use on this occasion, clapped Foote's old white hat on my head and walked out in my shirt-sleeves. Billy sat down with his back toward me as I walked off.

Thirty-six years elapsed before I saw him again. We met in the city of San Francisco, when I went there with the party of Tennesseans sent to meet the 1st Tennessee Regiment upon its return from the Philippine Islands. During those years he had become one of the most successful lawyers in the West. There was nothing about him like the Billy Foote of the old days, save his bright, dark eyes and genial, happy manner. The snows of all those winters had left their whitening touch upon his dark locks, and his figure bad lost its whippersnapper slenderness. It seems only a few short months since we parted with a promise to meet again soon, but my dear old comrade has answered the summons.

It is my pride and pleasure to be able to say that Tinfoot made his mark, and that out there in the sunset land no man stood above him.

But to my story. I went into the wheelhouse, put the life preserver between my legs, fastened it, and let myself down into the water gently. If any one on board saw me, he did not think the matter of enough importance to report it. I floated down the river slowly and steered myself to the back end of a stern-wheel boat. I climbed up on the wheel, went around on the edge of the boat and mingled with the hands who were unloading the cargo. There were a number of soldiers and steamboat men about, and one of the boatmen laughed at my bedraggled appearance and told his companion that I was a country yap who had fallen into the river. A soldier asked me if I fell in, and I answered "yes," and that I was going home then to get some dry clothes.

I was willing to masquerade as anything or anybody until my colonel's belongings were turned over to his own people. Only a fellow who had been a prisoner can appreciate the feeing of friendly ground beneath his feet once more.

< click here for Part One The Battle of Raymond >
< click here for Part Three The Return to Nashville >
---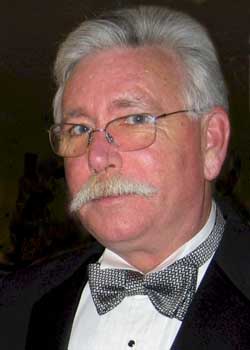 J.R. Reddig is the great great grandson of Barbara Griffin, whose brother Patrick Griffin fought for the 10th Tennessee (Irish) Infantry at the battle of Raymond. She married a Union soldier of the 72nd Ohio Volunteer Infantry.
Reddig was a career naval intelligence officer, retiring with 27 years of service in ships and jet squadrons, and the usual assortment of three-letter Agencies ashore. He was one of the first to arrive off the coast of Iran in 1979, responding with USS MIdway at the beginning of the Hostage Crisis. Professionally, he has been dealing with consequences ever since.
In retirement he is a government contractor and occasional correspondent for the BBC, residing in Arlington, Virginia, precisely half-way between the famous Arlington Line of Civil War defenses erected shortly after the Union Army occupied the County, and from Arlington House, the former Custis-Lee home of General Robert E. Lee. He expects to be buried at the cemetery that surrounds the mansion, eventually, though he is in no hurry to do so.
Reddig writes, Daily Socotra, a continuing series which appear periodically on the World Update with Dan Damon on the BBC World Service and is posted on the internet at http://vicsocotra.com/Daily_Socotra.htm

---
J. R. Reddig inherited his Uncle Patrick's gift for words and story telling. Of his colorful Irish family he writes "I was going to leave St. Patrick's Day behind this year, but it appears that the Irish are not done with me just yet. I got an e-mail from Nashville, asking for some information bout my ancestor who appears in a portrait commissioned for the history of the Irish regiment that was raised in that city to fight for the Confederacy. I have seen a copy of the painting, and it is an impressive thing, with a big gray horse rearing and a proud green banner floating. What I would really like to see is a family portrait of the dashing young Confederate, his lovely Irish sister (Barbara) and her husband, a strapping young Yankee teamster. But that is the root of the story, young people in a wild new land who were swept away in allegiances to new states and new causes. As for great-great Uncle Patrick, he is much more of a rogue than I had even expected - or - maybe he was just a 17-year-old Irish kid off to the greatest adventure of a lifetime."
The gift of blarney ran in the family. After the Griffins settled in Nashville, Patrick's sister, Barbara Griffin, immigrated to America. In 1864, she caught the eye of Irishman James Foley, who was regimental teamster in the 72nd Ohio Volunteer Infantry. He had survived Shiloh and Vicksburg, but Barbara was irresistible. They married while he was on furlough, and his new Irish bride used her "silver tongue" to persuade James to desert, rather than return to the fighting. They too lived long lives after the great war, and kept in touch with Patrick and his family down through the years. Barbara and James Foley were J. R. Reddig's great-great grandparents.
Rebecca Blackwell Drake
Copyright derived and Vic Socotra 2007
www.vicsocotra.com
---
| Home | Grant's March | Gregg's March | Battle of Raymond | Order of Battle | Commanders | Soldiers Who Fought | Diaries & Accounts |
| Official Records | Confederate Cemetery | Kaleidoscope of History | Re-enactments | Battlefield Preservation | Bookstore | Visitors |

Copyright (c) James and Rebecca Drake, 2007. All Rights Reserved.