GENERAL JOHN GREGG: THE END OF THE STORY
by Rebecca Blackwell Drake
In 1858, when General John Gregg and Mary Francis Garth were united in marriage, both were thirty years old. Standing before a magistrate in Morgan County, Alabama, they repeated their vows, "In sickness and in health - Till death do us part. Little did they know that death would part them in less than six years.
Mary Francis Garth was raised in the lap of luxury in Decatur, Alabama. Her father, General Jessie Garth, was an Alabama senator as well as one of the wealthiest plantation owners in the state. He was also a Unionist and willing to give up his thousands of slaves to save the Union. Jessie Garth's political stand put him at odds with his son-in law, Brigadier General John Gregg, who fought with a vengeance for the cause of the Confederacy.
Brigadier General John Gregg, was a scholarly man. Born and educated in Lawrence County, Alabama, Gregg became a mathematics professor. He also studied law in Tuscumbia, Alabama. In 1852, at the age of twenty-four, he moved to Fairfield, Texas, where he was elected District Judge. As a member of the Texas Secession Convention, he became a member of the Provincial Congress of the Southern Confederacy in Montgomery, Alabama, and later in Richmond, Virginia. As the cause of the Confederacy escalated, he resigned his congressional seat and formed the 7th Texas Infantry. John Gregg was ready for action and more than ready to defend Southern rights and constitutional liberty.
John and Mary Gregg were living in Texas and still in the honeymoon stage of their marriage when John left for war. Soon after enlistment, Gregg was captured and taken to Fort Warren, Massachusetts, for imprisonment. Months later, he was exchanged for a Yankee prisoner. In September of 1862, he was commissioned brigadier general and sent to Mississippi. The men under his charge were the 3rd, 10th, 30th, 41th, 50th and 9th battalions of Tennesseeans as well as the reconstituted 7th Texas Infantry. His first major battle, the Battle of Raymond, came on May 16th, 1863 when his Confederate Army of 2,500 soldiers went head to head with a Union Army that numbered roughly 10,000. There were numerous causalities and injuries that day but fortunately, General Gregg was not one of them.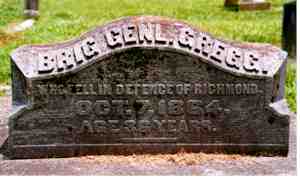 Grave of General John Gregg who fell in defense of Richmond at 36 years of age.

Several months later, while fighting in the Battle of Chickamauga, he was not so lucky. On Sept 19, 1863, he was severely wounded and sent to Marietta, Georgia, to recuperate. During the months spent as an invalid, his beloved Mary joined him and helped to nurse him back to health. Friends described Mary Garth Gregg as, "An unusual woman - a direct descendant of Patrick Henry. She was a tall slender woman of military carriage and as firm in mind and character as her husband or any General for that matter.....she was a tender Christian woman." The time they spend together while John recovered from his injuries was perhaps their final time together. One year later, October 7, 1864, General Gregg was killed during the Battle of Richmond.

Regarding her husband's death, it was reported that, "Days elapsed from the time General Gregg was killed until the poor wife knew of her bereavement," Mary had been staying at the home of her father in Decatur when the War Department of the Confederacy brought the heartbreaking news. Friends later recalled her reaction stating, "Her soul was plunged in grief beyond all other grief. For weeks, her sorrow knew no bounds. No comfort came to the aching heart. No desire in life seemed hers save that the body of her dead husband should find a last resting place safe from the hands of the enemy."

After weeks of grief and depression, Mary decided she could not rest until she traveled to Virginia to claim the body. First, however, she made plans to travel to Aberdeen, Mississippi, where her father owned land. She hoped to find Aberdeen a suitable place to live as well as to bury her husband. But, first she had to retrieve his body and this would not be easy. The Confederacy had unraveled. A trip to Virginia through enemy lines would be an extremely risky maneuver.

Using her influence and calling for favors, Mary Gregg finally secured an escort, Sgt. E.L. Sykes, Confederate soldier and family friend, to accompany her. On January 18, 1865, the pair began their perilous journey - traveling by way of the Mobile and Ohio Railroad and Alabama River. Approximately one month later, they arrived in Virginia where Mary Gregg anxiously claimed her husband's body. But, it was all too much for her. She succumbed to a nervous breakdown and had to wait weeks before recovering the strength to return to Mississippi with his body.

The trip back to Aberdeen took another full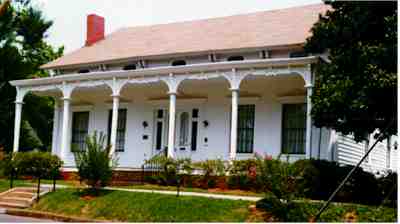 The antebellum home once owned by Mrs. General John Gregg is open to tourists during Aberdeen's Spring Pilgrimage.

month and was filled with horrendous adventures. The two could have shouted for joy as their carriage finally crossed the border into Mississippi. In April of 1865, with a feeling of contentment and resolve, Mary Gregg interred her husband at the Odd Fellows Cemetery on the outskirts of town.

As Mary Gregg, settled into her new life in Aberdeen, she became a successful planter and was one of the city's most prominent citizens. She was famous for her work with orphans as well as the afflicted. For the remaining thirty years of her life, she never left the town in which her husband's remains were interred. Mary Garth Gregg died in 1897 and, following a solemn and impressive ceremony, was laid to rest next to her husband. Her tombstone simply reads, "Mrs. General John Gregg."
---
| Home | Grant's March | Gregg's March | Battle of Raymond | Order of Battle | Commanders | Soldiers Who Fought | Diaries & Accounts |
| Official Records | Confederate Cemetery | Kaleidoscope of History | Re-enactments | Battlefield Preservation | Bookstore | Visitors |


Copyright (c) James and Rebecca Drake, 1998 - 2002. All Rights Reserved.