Brothers Fight In The Battle Of Raymond
Historical documents show that at least seven pairs of brothers fought on the Raymond Battlefield. Most likely, there were others but the following are the only ones known to date.
by Rebecca Blackwell Drake
Morris (Mo) and William (Willie) Fitzgerald, Irish immigrants, were raising their own kind of dust on the Raymond Battlefield as they fought to avenge the enemy in blue. Shocked to hear that their friend and commander, Colonel Randal McGavock, had been killed, they mumbled and cussed as they angrily engaged the enemy. The Fitzgerald brothers had already achieved fame within their unit - not only for fighting the enemy but for fighting each other as well.
Mo and Willie, identical twins, had signed with the Tenth Tennessee, Irish, as early as 1861. Due to their heavy Irish accent, the Tenth Tennessee soon became the "Tinth Tinnissee." The brothers were described as bearded Irishmen who had come up the hard way as immigrant orphans in the workhouses of Nashville. In fact, their appearance was comical. Both wore mud-covered ten-gallon hats and had ratty looking beards. Private Jimmy Doyle of the same unit described the Fighting Fitzgeralds in his diary saying, "Willie's long, ratty-looking brown beard was most of the time dirtier than Mo's long, ratty-looking brown beard."
As early as 1861, members of the Tenth Tennessee, Irish, got a good insight to the Fighting Fitzgeralds. Late one night, they confiscated a row boat - rowed across the Tennessee River - and headed for a night out at Peggy's Tavern. On the way back, as they rowed by the light of the moon, they fought as to which would finish the jug of whiskey. Willie decided to drown Mo by holding his head under the water. As it turned out, both of them almost drowned because the boat overturned and neither could swim. By the time the Fighting Fitzgeralds arrived in Raymond, they had earned their reputation. The brothers fought through the entire Siege of Vicksburg then on into Georgia.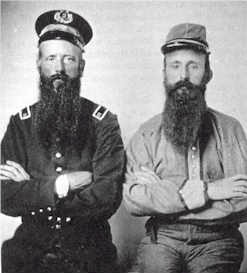 Calvin H. Walker and his brother, James S. Walker, fought with the 3rd Tennessee Infantry. Calvin, a hero during the Battle of Raymond, was killed at New Hope Church, Georgia, in 1864. James, survived the war.
James and Calvin Walker, 3rd Tennessee, were from a prominent family in Nashville. A great deal was written of Colonel Calvin Walker during the Battle of Raymond but few realized his brother, James, was also a part of the action. Following the Battle of Raymond, the Walker brothers marched on to Georgia where Calvin was killed at New Hope Church on June 22, 1864. James survived the entire war and eventually returned to Nashville.
Daniel Howard Stevens and Victor Stevens, 20th Illinois Infantry, were among the 24,000 men who landed with Grant at Bruinsburg Landing. After eleven days of marching through Mississippi countryside they found themselves engaged in fierce fighting across the banks of Fourteenmile Creek at Raymond. While leading a charge, Victor was shot through the head and died instantly. Howard, wrote home saying, "I could not get an opportunity of sending Victor's remains home, or get even lumber enough to make a box to bury him in. So, we wraped him in his blanket, and laid him in his grave." After burying his brother on the Raymond Battlefield, Howard continued to fight through the Siege of Vicksburg. On December 25, 1863, he married Matlida Marsh - from an old Southern family in Vicksburg. The fact that he was a Yankee and she was a Southern Belle didn't seem to bother either of them. After the Siege of Atlanta, he returned to Mississippi where he and Matilda finally settled near Rocky Springs. The exact location of Victor's burial site on the Raymond Battlefield was never determined. (see Burying a Brother: Victor and Howard Stevens)
William C. Allen and Burrell S. Allen from Montgomery County, Tennessee, fought with the 50th Tennessee. Before arriving in Raymond, the young brothers had been in several hard battles including Fort Donelson. William was captured at Fort Donelson and imprisoned for seven months. Burrell had also been captured but escaped the following day. By the time the young brothers arrived in Raymond, they were seasoned fighters and not anxious to be returned to prison. As the battle raged over Fourteenmile Creek, Burrell, 20 years old, was wounded through the neck and shoulder. William, who was a company commander, carried him from the field. The next day, Burrell was placed on a train full of wounded soldiers and shipped off to the Confederate Hospital in Enterprise. He died in Enterprise eight days after the Battle of Raymond.
Amos and Artelius Norman, Iowa brothers, were present on the Raymond Battlefield. Amos, twenty years old, fought with Co. B, 78th Ohio Volunteer Infantry, commanded by Lt. Col. Z. M Chandler, 2nd Brigade. During the engagement,his knapsack was shot off his back, and his elbow was hit by a spent mini ball. No serious damage was done. His older brother, Artelius, fought with Co. G, 32nd Ohio Volunteer Infantry, commanded by Col. B. F. Potts, 3rd Brigade. Both men continued to fight through the entire war.
Robert and Bruce Cooper, 3rd Tennessee Infantry, were proud and hard fighting Confederate soldiers from Lewis County, Tennessee. Robert served as Captain of Co. H while Bruce was enlisted as a private. Even though they were the only Cooper brothers fighting in Raymond, they had eight siblings fighting in other arenas of the war – Brentwood, Tupelo, and West Point. One brother, Samuel Cooper, died at Camp Douglas after being taken prisoner at Fort Donelson. On May 12, 1863, following the Battle of Raymond, Robert and Bruce were both listed as casualties. Pvt. S. C., Mitchell, 3rd Tennessee recalled Captain Robert Cooper's death on the Raymond battlefield, "When he was shot he had disarmed a federal officer in single combat. After he was shot he called to Lt. Col. Clack and told him to tell his wife that he died like a man." His brother, Bruce, was listed as one of the wounded. Of the Cooper's ten sons who left to fight for the Confederate Cause, only five returned home to Lewis County, Tennessee.
Francis Marion and Jasper M. Peavyhouse, teenage brothers from Fentress County, Tennessee, were dirt poor but determined to contribute to the cause of the Confederate Army. They joined Company C, 3rd Tennessee Infantry as early as 1861. But, life in the army wasn't what they expected. Several months after enlisting, they were captured and sent to Camp Douglas near Chicago. A third brother, William, was also imprisoned at the same camp. On September 29th, 1862, all three brothers were exchanged in Vicksburg. William, weakened by his prison stay, died a month later and Francis and Jasper ended up in Raymond. On May 12, 1863, led by Colonel Calvin Walker, they formed for battle in the Raymond town cemetery. They were left for dead on the battlefield and eventually interred in the Confederate section of the Raymond Cemetery.

---
| Home | Grant's March | Gregg's March | Battle of Raymond | Order of Battle | Commanders | Soldiers Who Fought | Diaries & Accounts |
| Official Records | Confederate Cemetery | Kaleidoscope of History | Re-enactments | Battlefield Preservation | Bookstore | Visitors |


Copyright (c) James and Rebecca Drake, 1998 - 2002. All Rights Reserved.