"Fighting Bishop" Visits Raymond
by
Rebecca Blackwell Drake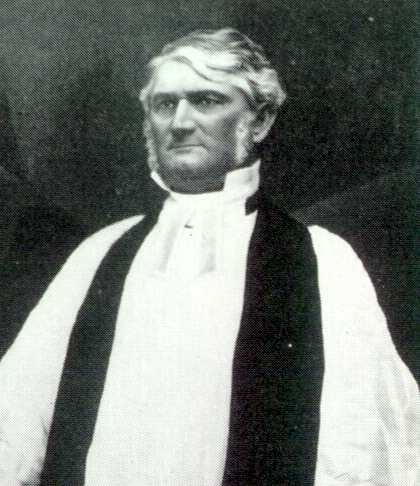 Bishop Leonidas Polk, later known as "The Fighting Bishop", visited with Episcopalians in Raymond two decades before St. Mark's was erected. In 1861,
Bishop Polk enlisted in the Confederate Army and was killed in 1864 during the Atlanta Campaign.

In the spring of 1839, everything was buzzing with excitement as citizens of Raymond prepared to greet Bishop Leonidas Polk. Polk had just been named Episcopal Missionary Bishop of the southwest and was slated for whistle stops throughout the South. While in Vicksburg, Bishop Polk set the cornerstone for Christ Episcopal Church and preached to the congregation. On April 15th, he spent the day visiting in Raymond before preaching a sermon at the courthouse that night.

As Bishop Polk visited with Episcopalians in Raymond, few knew of his personal life. Leonidas Polk graduated from West Point in 1827, but soon resigned his military career in order to attend Theological Seminary in Alexandria, Virginia. He was ordained as an Episcopal Priest in 1830. That same year he married Frances Devereux, his childhood sweetheart, and moved to Maury County, Tennessee. There he and his new bride lived at Ashwood Plantation, a land holding given to him by his wealthy father. During their time at Ashwood Plantation, he erected St. John's Episcopal Church in Ashwood, Tennessee.

After being named missionary bishop of the southwest, Polk traveled extensively. His territory included Tennessee, Arkansas, Louisiana, and Mississippi. His brief visit to Raymond inspired Episcopalians to contemplate building a place of worship. Despite their enthusiasm, however, St. Mark's Episcopal was not erected until 1854-55.

Several years after his visit to Raymond, Bishop Polk was named the first Bishop of Louisiana. While serving in this position he became a prosperous sugarcane planter. A large number of slaves from his wife's plantation in North Carolina came to work the crops. In 1861, with threats of secession a hot issue, Bishop Polk's deep-seated feelings persuaded him to enlist in the Confederate army as early as 1861. He exchanged his clerical vestments for a Confederate uniform. Polk rose quickly to the rank of lieutenant general and served the Confederacy with distinction and courage. Some of his greatest battles were those at Shiloh, Perryville, Murfreesboro and Chickamauga.

During the Atlanta Campaign of 1864, Polk fought with the Army of Tennessee commanded by General Joe Johnston. On June 14th, while fighting on the Kennesaw Mountain line, he journeyed with Generals William Hardee and Joe Johnston to Pine Mountain to ascertain the enemy's position. Sherman spied the Confederate generals on top of Pine Mountain and ordered his men to open fire. A Prussian soldier nicknamed "Leatherbritches" Dilger fired his 12-pounder cannon, killing Bishop Polk as he stood on the crest of the mountain. At the time of his death, Bishop Polk was carrying copies of a newly published religious tract, Balm for the Weary and Wounded, to give to the soldiers.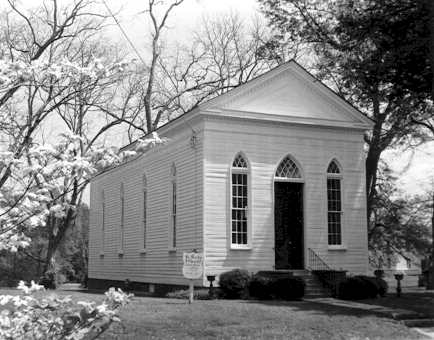 During the Union occupation of Raymond, St. Mark's Episcopal was all but destroyed by the Union army who used the structure as a hospital. The church was consecrated for the second time on May 5, 1868, in commemoration of the fifth anniversary of the Battle of Raymond.
Sam Watkins, a private in the 1st Tennessee, wrote of the bishop's death: "General Leonidas Polk, our old leader, whom we had followed all through that long war, had gone forward with some of his staff to the top of Pine Mountain, to reconnoiter, as far as was practicable, the position of the enemy in our front. While looking at them with his field glass, a solid shot from the Federal guns struck him on his left breast, passing through his body and through his heart…..my pen and ability is inadequate to the task of doing his memory justice. Every private soldier loved him. Second to Stonewall Jackson, his loss was the greatest the South ever sustained." It was rumored that "Leatherbritches" Dilger later committed suicide for having killed a man as great as the bishop.
Bishop Polk was buried at St. Paul's Church in Augusta, Georgia. Episcopal bishops from throughout the South, including the Rt. Rev. Mercer Green, Bishop of Mississippi, participated in the solemn service. Many of soldiers who fought under Bishop Polk's command attended the funeral and paid their last respects to their fallen comrade.
Bishop Green wrote of the mournful experience: "June 26, 1864 - Preached in St. Paul's and Holy Trinity, Augusta…During my stay in that place it was a mournful gratification to me to be allowed to take place in the funeral services of my late Rt. Rev. Brother, the Bishop of Louisiana… Whether considered in his relations to his family - to society - to the Church- or to his Country, Bishop Polk was no ordinary man. Quick in his perceptions, prompt in action, energetic of will, with expanded views, with the highest sense of honor, with a penetrating knowledge of human character, with great power of controlling others, and with a heart as tender as it was brave, Bishop Polk possessed all the qualities that go to make up the man, the soldier and the Christian."
Members of St, Mark's Episcopal were shocked to hear of Bishop Polk's death. However, by this time they had suffered their own loss. Grant's army had all but destroyed most of the structures in town and St. Mark's had been left in a state of ruins. It would be five long years before St. Mark's could once again open its doors.
Through the years, the Episcopalians in Raymond never forgot Bishop Leonidas Polk, and his memorable 1839 visit to Raymond. Church members remembered him not only for his role as bishop but also for his role as one of the greatest generals to fight in the Confederate army.
*St. Marks' Episcopal resumed church services on May 5, 1868, five years following the Battle of Raymond. The remains of Bishop Leonidas Polk and his wife, Frances, were exhumed and re-interred at Christ Church Cathedral, New Orleans, in 1945.