After five generations I followed in my great-great-grandfather's footsteps. My great-great-grandfather, 2nd Sgt. John T. Hasty, and his son, Pvt. Pinkney Hasty, joined the 34th GA, as part of the Confederate Southern Army. They trained at Big Shanty, now known as Kennesaw, Ga. They fought at Bakers Creek, Mississippi, and Champion Hill. They were captured in the siege of Vicksburg.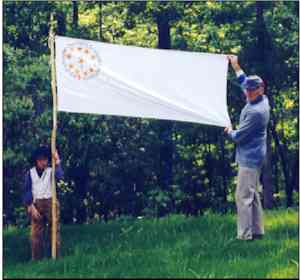 At right is Jerry Bishop, the great-great-grandson of 2nd Sgt. John T. Hasty of the 34th GA, Co. -B. Pictured on the left is Morgan Adams, the great-great-great- great-grandson of 2nd Sgt. Hasty.
I stood at Champion Hill, and I stood in the battle line at Vicksburg National Military Park where my ancestors fought five generations ago. Walking in the same steps they walked in was a very emotional time for me. As we marched through the streets of Raymond, I could feel the hospitality and appreciation for the Southern troops as it must have been then.
One year ago, the 34th GA reenactors from Canton, Ga., started making plans to go to Vicksburg and Raymond. The unit especially wanted to have a reproduction of the original 34th GA Flag that had been captured at the siege of Vicksburg.
After several months of research, we found the original flag in a museum in Chicago, Ill. We wrote letters, made phone calls, and we were charged a $4.00 fee, but finally we received a black and white photo of the flag. Still needing more information, 1st Sgt. Mike Richey and 2nd Sgt. Terry Adams left Atlanta, Ga., and drove to Chicago. While there, they obtained a color photograph and a complete detail description of the flag. Later this information and picture was taken to an artist, who drew the 22-inch canton of the flag, and filled in the correct colors.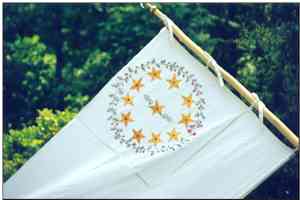 The 34th GA flag is seventy-two and one-half inches by 33 inches. There are three strips of white silk. Each strip is 11 inches wide. They are hand stitched together. The twenty-two inch canton has in the center one gold star with a red dot; above and below the star are two gloves, one pointing up and one pointing down. Each has a gold heart embroidered on the back of it. There are ten other gold stars with red dots in the center. A green wreath and red flowers circle the ten stars. It is patterned exactly after the original.
This drawing was taken to a lady who hand embroidered two sides of the canton, and then hand stitched the flag together. A total of eighty hours of work went into the flag before it was completed. "This reproduction is the closest thing to the original as you will find," said Captain Bob Kimmer of the 34th GA.
We had this flag made so we could carry it in the battles and through the streets of Raymond, as our Confederate Troops did the original, some 135 years ago.
The 34th GA would like to thank the people of Raymond and Hinds County for the warm Southern welcome and hospitality we were given during our stay in the Raymond area.
With our most Southern respect,
Pvt. Jerry 0. Bishop, 34th GA
6819 Cunming Highway
Canton, GA 30114
"Any people with contempt for their heritage have lost faith in themselves, and no nation can survive without pride in its traditions." Sir Winston Churchill
---
| Home | Grant's March | Gregg's March | Battle of Raymond | Order of Battle | Commanders | Soldiers Who Fought | Diaries & Accounts |
| Official Records | Confederate Cemetery | Kaleidoscope of History | Re-enactments | Battlefield Preservation | Bookstore | Visitors |


Copyright (c) James and Rebecca Drake, 1998 - 2002. All Rights Reserved.