~Portraits~
Generals and Commanders

by Rebecca Blackwell Drake
Excepts from In Their Own Words: Soldiers Tell the Story of the Battle of Raymond



Portrait of A Hero in Blue
Major General John A. Logan
3rd Division, 17th Corps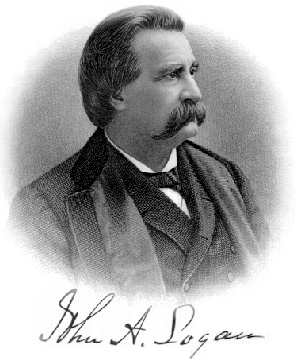 Following the war, John Logan became a Senator and Commander and Chief of the Grand Army of the Republic. As a Senator, he worked hard to award pensions to Union veterans. In 1884, he was the unsuccessful Republican nominee for vice-president. Logan also authored numerous books including, The Volunteer Soldier of America and The Great Conspiracy.
Born in 1826, in what is now known as Murphysboro, Illinois, Logan was the son of Dr. and Mrs. John Logan, a prominent family in the area. After completing his education at Shiloh Hill, Illinois, Logan became interested in politics and as early as 1856, began serving in the Illinois legislature. In 1858, he was elected to Congress. In 1861, with the war in its early stages, Logan left his political career in order to establish the 31st Illinois Infantry in which he was commissioned as a colonel.
He was nicknamed Black Jack because of his black eyes and hair and dark-skinned complexion. As the war progressed, Logan advanced in rank. On March 13, 1863, two months before the Battle of Raymond, he was commissioned major general and led the 3rd Division of McPherson's 17th Corps. It was the young and newly appointed General John Logan, who led the Union attack in the Battle of Raymond.
During the opening moments of the battle, the Union Army, surprised by the suddenness and fierceness of the Rebel attack, almost broke and ran. It was General Logan who, riding his horse up and down the front line, managed to control the attack and prevent his men from breaking.
As the fighting erupted along Fourteen Mile Creek, General Logan guided his horse toward the front of the Union line, barking commands to his division: "For God's sake men, don't disgrace your country: see how they're holding them." With bullets hissing through the air and the creek turning red with blood, the startled Yankees had only one thought in mind - break and run.
One of the men who wanted to run was Osborn Oldroyd, who was fighting on the front line with the 20th Ohio. "The regiment to the right of us was giving way," he later wrote, "but just as the line was wavering and about to be hopelessly broken, Logan dashed up, and with the shriek of an eagle turned them back to their places, which they regained and held. Had it not been for Logan's timely intervention, who was continually riding up and down the line, firing the men with his own enthusiasm, our line would undoubtedly have been broken at some point."
The fact that General Logan had urged his division to victory came as no surprise to Oldroyd, a young soldier from Ohio who held the general in high esteem. Just the night before, while camping at the Roach Plantation, Oldroyd had made an entry into his diary praising his commander: "Logan is brave and does not seem to know what defeat means. We feel that he will bring us out of every fight victorious. I want no better or braver officer to fight under."
Logan certainly lived up to Oldroyd's expectations the day of the Battle of Raymond. His stand on Fourteen Mile Creek won him accolades not only from the men under his command but from other generals as well. The hero status would continue. Logan's popularity as a commanding officer and battlefield hero escalated to an all time high. Northern newspapers clamored for news of Black Jack. On May 29, 1863, the Chicago Tribune stated, "We echo the opinion of his superior that he is a whole division in himself." The Chicago Tribune also used terms such as "courageous, skillful and full of pluck" to describe Logan's military persona.
By July of 1863, Logan's popularity in the north was second only to that of U. S. Grant. No one could have been more pleased with Logan's success than his wife, Mary. A steady flow of letters affirmed her devotion. The letters also reflected the pride she took in her husband's achievements. Acknowledging his newfound national popularity, Mary wrote from her home in Carbondale, Illinois, saying, "Everything is Grant and Logan." On July 4, 1863, Grant honored General Logan by inviting his division to lead the Union advance into Vicksburg. Never was Logan so proud. The next day, still on an emotional high, he wrote to his wife saying, "The victory is the greatest triumph of modern times…My division has immortalized itself in the eyes of the whole army."
Adding to Logan's delight, Grant honored him by naming him temporary commander of Vicksburg. His orders were to provide guards to prevent prisoners from escaping and to protect against looting. Logan went on to command the 15th Corps and briefly the Army of the Tennessee during the Atlanta, Georgia, and Carolinas campaigns. His reputation as a hero never waned.
Following the war, the military giant became a hero to all Union veterans. He threw his efforts into securing veteran's rights for the men who served their country. Following Logan's death in 1886, family member, C. H. Logan wrote of his character: "The character of General Logan was compounded of an unusual number of the strongly typical elements. Of the elements going to make up this rich combination, apart from those exclusively related to strong intellectuality, the chief were honesty; great energy; iron determination; unflinching courage; much religious sentiment; great love of fellow-man and a laudable ambition to play the life-part well."
To his wife and best friend, Mary Logan, who supported him in all facets of life, he left his most treasured possession - The Union Medal of Honor presented to him by Congress for Meritorious Conduct.