~Portraits~
Generals and Commanders

by Rebecca Blackwell Drake
Excepts from In Their Own Words: Soldiers Tell the Story of the Battle of Raymond

Brigadier General John Gregg
Commander, Gregg's Brigade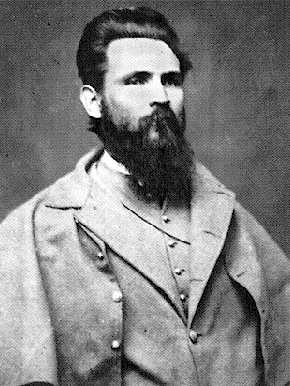 1828-1864
Brigadier General John Gregg was born in 1828 in Lawrence County, Alabama. He was a well-educated man and spent most of his formative years either attending school or teaching school. In 1847, he graduated from La Grange College and began to pursue his interest in law. This interest led him to move to Fairfield, Texas, where he was elected judge of his district in Freestone County.
In 1858, at the age of thirty, Gregg returned to Alabama to marry Mary Frances Garth, daughter of Jesse Winston Garth. Garth was well known as one of the wealthiest plantation owners in Alabama. He was also a Unionist who was willing to give up his hundreds of slaves if it meant saving the Union. In 1861, when the war broke out, Gregg found himself at odds with his father-in-law.
Following the marriage, John and Mary Gregg returned to Fairfield, Texas, where he was District Judge. As a member of the Texas Secession Convention, Gregg became a member of the Provincial Congress of the Southern Confederacy in Montgomery, Alabama, and later in Richmond, Virginia. As the cause of the Confederacy escalated, he resigned his congressional seat and formed the 7th Texas Infantry. John Gregg was ready for action and more than ready to defend Southern rights and constitutional liberty.
John and Mary Gregg were in the third year of marriage when he left for war. Soon after enlisting, he was captured and sent to Fort Warren, Massachusetts, for imprisonment. He was later exchanged and returned home. In September of 1862, Gregg was commissioned brigadier general and sent to Mississippi.
One of the first major battles of General Gregg's military career was in Raymond. The men under his charge were the 3rd, 10th, 30th, 41st and 50th Tennessee Infantries, the 1st Tennessee Battalion, and the 7th Texas Infantry. On May 12, 1863, when Gregg's Brigade met McPherson's 17th Corps in Raymond, Gregg fought with a vengeance. Little did he know that he had led his brigade of 3,000 men into battle against a force of some 12,000 strong. After almost six hours of fierce fighting, the Confederates were forced to retreat.
A year later, General John Gregg learned that General James McPherson, the opposing general in the Battle of Raymond, had been killed in the Battle of Atlanta. What General Gregg didn't know was that his destiny would soon be sealed as well.
General John Gregg was killed on October 7, 1864, while fighting in the Battle of Richmond. The Confederate general had outlived his Union opponent by only three months.
Both men were born in the same year and, as fate would have it, both would die in the same year. Mary Garth Gregg became a widow at the age of thirty-six. After traveling to Virginia to claim her husband's body, she buried him in Aberdeen, Mississippi.